As much as we love improving our homes, a major renovation can sometimes feel daunting. This is why we encourage you to take the time to ensure you are choosing the right partner.
You are at the heart of everything we do. It is our honour to be with you every step of the way, on your journey that leads to the creation of a home that is a unique reflection of you. This is why we have developed a tried and true renovation model to reflect what we think you value most.
THE RENOVA DIFFERENCE
For more than 30 years, RENOVA has been guiding clients through the process of creating the home they want, with a design first approach. We always want to ensure that our clients end up with an elegant and memorable home that will stand the test of time. Whether we are starting from an empty lot, or returning to spruce up your home to current tastes. With this in mind, we use nothing but the highest quality materials and finishing. What might be considered an upgrade with other renovators or homebuilders is a standard with RENOVA. Rest assured knowing you receive the same quality of workmanship in your renovation that you have come to expect from our historic luxury brand.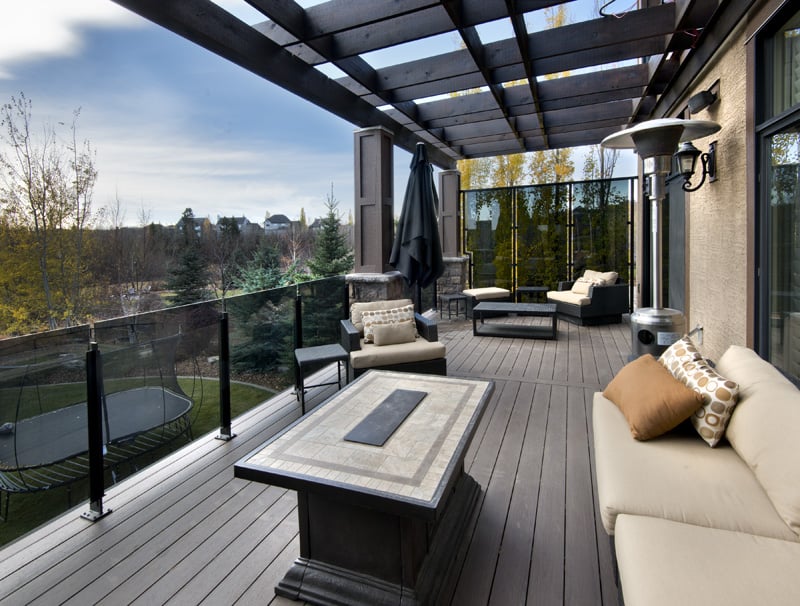 SECURITY
We've been crafting beautiful, award-winning homes & renovations in Calgary for more than three decades. And we're here to stay!
We are dedicated to the highest level of workmanship within each project, and offer a 2 year warranty on the renovated aspects of your home. You can expect to hear from us yearly, to ensure you are still loving your RENOVA renovation, and you can of course, contact us any time, if you are experiencing any issues.
We're not Calgary's largest renovator, nor are we the smallest. We're the right size to focus on your needs and deliver what we promise.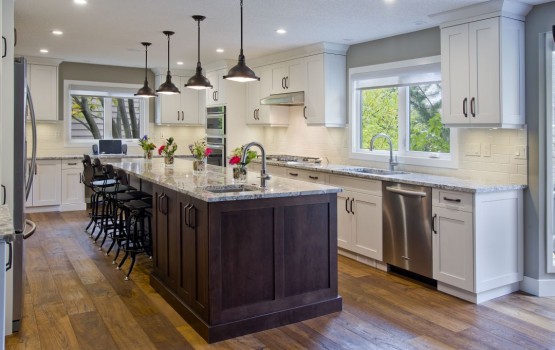 DESIGN-BUILD MODEL
IN HOUSE 3D ARCHITECTURAL DESIGN
We draw every single one of our projects, whether it is a simple powder room to a major renovation, such as converting a bungalow to a two-storey home. Major renovations certainly require drawings in order to obtain permits and satisfy other requirements, but we take it a step further, and ensure we provide our clients with a full 3D view of all aspects of their renovation. Most renovation companies will simply provide you with a blueprint or line drawing, but our in-house design team knows, that in order to truly visualize, and get excited about your project, you need to see how your sofa is going to look in your living room.
Beyond the aesthetics, following this detailed design driven model allows us to ensure we can provide you with accurate and tight estimates for your project; It removes all the guess work, because we have drawn every detail.
CONSTRUCTION CLEANLINESS
SAFETY IS IMPORTANT
We can tell you we care, but we would rather show you! Construction is inherently messy, but this is your home, and we know how stressful it can feel living in a construction zone. Beyond that, we want to ensure you're still invited to the neighborhood block parties. This is why exterior and interior project cleanliness and protection is so important to our team.
Not only do we lay plywood down before our construction bins are dropped off (protecting your driveway) we also wrap all bins in a Renova banner to spruce up the look of having a construction bin in front of your home. Our team takes pride in ensuring both the exterior and interior of the home is cleaned daily, as well as having it professionally cleaned during certain stages of construction.
Additionally, our team is focused on your homes security, from lock boxes and traffic logs to protecting the aspects of the home that are to remain. We ensure we invest both financially and professionally in protecting your family and your home!
CLIENT SECURED FIXED PRICING
We have all heard the stories; Mary and John enter a renovation agreement and by the end of the project have paid thousands upon thousands of dollars more! The contractor keeps saying "well this popped up, and you will need to pay more".  This is why we offer guaranteed fixed price contracts. We understand nothing is more stressful than surprised costs! We take the time getting all those little details 'just right' in design, which in turn allows us to remove the guess work and ensure we are agreeing to a renovation cost you are comfortable with.
FIXED PRICING VS. COST PLUS PRICING
Fixed Price
Everything is included in your price
Careful upfront planning in order to reduce changes on the fly
Driven by detailed design drawings and construction specifications
Safer and easier for the client
Price is not affected by market fluctuations
Purchasing and sub-trade relationship vital to contractors success
Pricing or planning mistakes paid by contractor
Schedule and timing are vital to contractor's success
No kickbacks
Encourages contractor to keep spending down
Homeowner can choose involvement level in construction process
All selection allowances are transparent
Warranties held and managed by your contractor
Cost Plus
All project costs are paid by the client plus management & supervisor fees
Open-ended specification
Driven by construction, onsite decisions and selections
Safer for the contractor
Client pays for any market fluctuation
Purchasing not vital to contractor as price is paid no matter what
Pricing or planning mistakes paid by client
Schedule unimportant (timeline grows = increases cost)
Loyalty kickbacks – contractor can pay less than invoiced
Excess spending increases contractor fees
Homeowner needs to be very involved in construction process
All costs and pricing are not transparent
Extra charges for change orders
Warranties often held by client
Let's transform your home!