MESSAGE FROM THE PRESIDENT
I believe that in any business it is quality rather than quantity that matters. If you do a good job then your company will grow. At the end of the day, what we really strive for is your referral. Our goal is for you to love your home and tell your friends and family about our amazing architectural designs, our fair pricing, and our professional team that constructed a quality home.
I have personally been in the Housing Industry my entire professional career, and because of my background, have created a design driven company. This means that we believe that Functional, Practical, and Stylish Design is the most important part of planning any home or renovation project. 
Building since 1992, we know that hiring great people and working with quality trades and suppliers is the key to creating quality product and a successful client experience. We only hire qualified trades and suppliers that can produce the standard we expect. As a quality control measure, we ask for feedback from our clients.
My promise to you; with our team, you will experience a group of the most passionate and understanding professionals in the industry, and they will help guide you through your most important investment – your home.
Sincerely,
Justin Mauro, President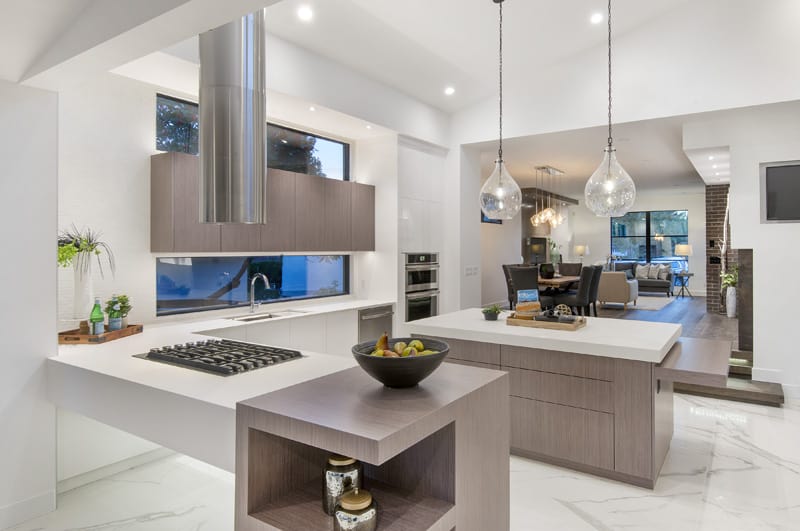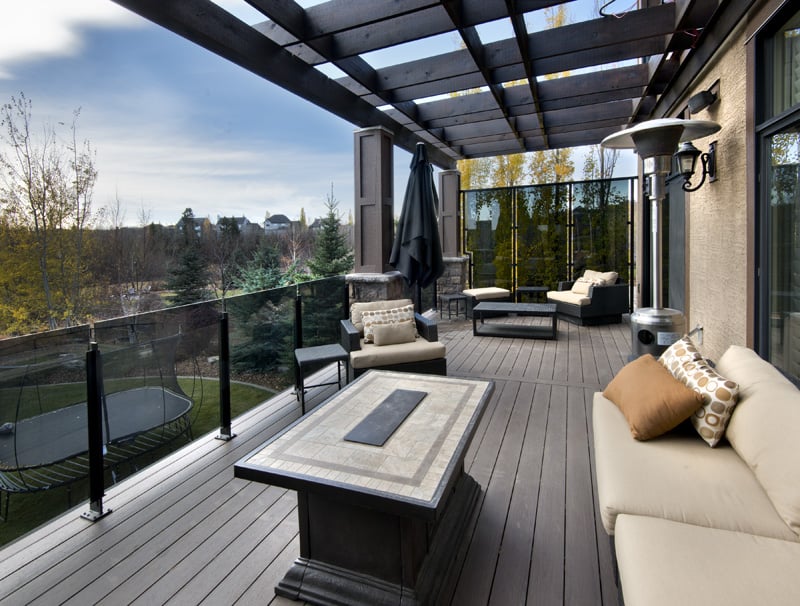 COMMITTED TO EXTRAORDINARY RESULTS
Over 75% of RENOVA's business comes from referrals and repeat business. We practice open communication and complete transparency and our commitment to our customers' trust and expectation is as dependable as the homes we create.
We strive to satisfy every customer and use customer feedback to help us continue to improve our business.

Investing in Our Community
Over 30-years of building and renovating homes in Calgary has taught us the importance of also helping to foster and build a sense of community in the city we love.
Giving back is a vital part of the way we do business.
We have provided financial support to numerous causes within the city, from supporting schools and initiatives in our communities to helping build amateur sport programs for youth.
We believe it's our responsibility to do more than just build and renovate beautiful homes.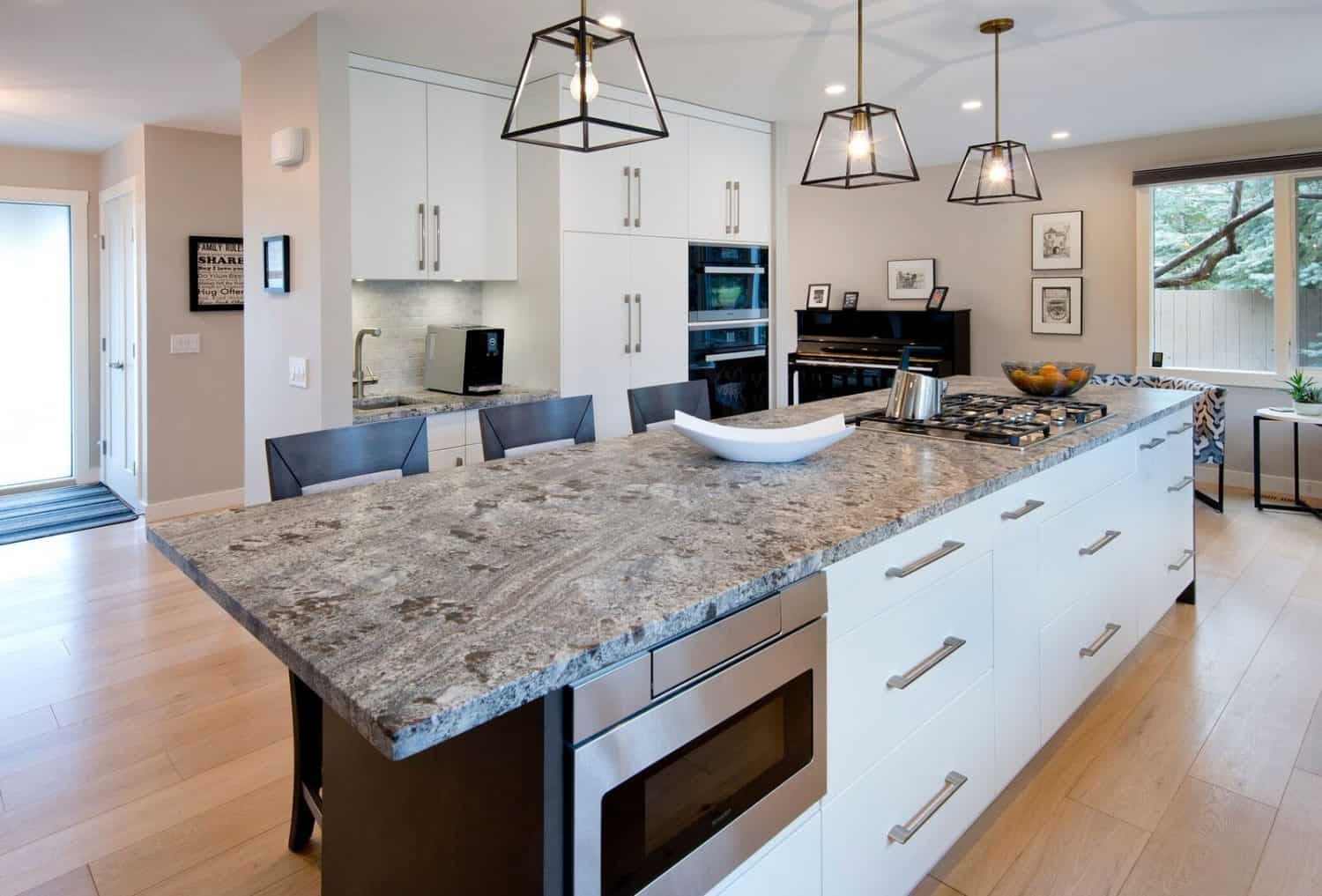 OPERATION RENOVATION
For many years we committed time and resources to help local non-profit organizations in need of renovated spaces. Our involvement in the Operation Renovation program is our way to give back to these amazing organizations who make such a tremendous impact in our communities.
SAIT SCHOLARSHIP FUNDING
We believe in a well-educated and technically proficient workforce. Many of Calgary's skilled craftsman graduate from the School of Construction at SAIT and many of them come to work with with us. Renova has made significant commitments to ensuring a legacy of quality and excellence in our community, and offers scholarship opportunities yearly.
CAMP HOPE
In 2020, Renova was proud to build a brand new home for the Camp Manager at Camp Hope to help the Camp grow and offer more programs to at-risk kids. Camp Hope is a 100-acre property recently purchased by Hope Mission. Located 20 minutes west of Calgary. At Camp Hope, at-risk kids glimpse a brighter future. Here, they can forget their fears and just be kids. Trained staff are carefully chosen for their maturity, compassion and ability to reach out to each child. 
CAMP KINDLE
Camp Kindle is owned and operated by the Kids Cancer Care Foundation of Alberta. For decades, our core mission has been to create magical camp experiences for children with cancer. In 2019 Renova proudly participated with other builders to create several reading forts to be placed out at Camp Kindle for the kids to enjoy.
In the end, it is praise of our customers that we most strive to receive, however we have been fortunate to be recognized many times for the work we do.
We see our awards as a reflection of the merits of our core philosophy that places customer satisfaction as the definition for good work. We are always honored to be recognized by our industry peers as being excellent at what we do.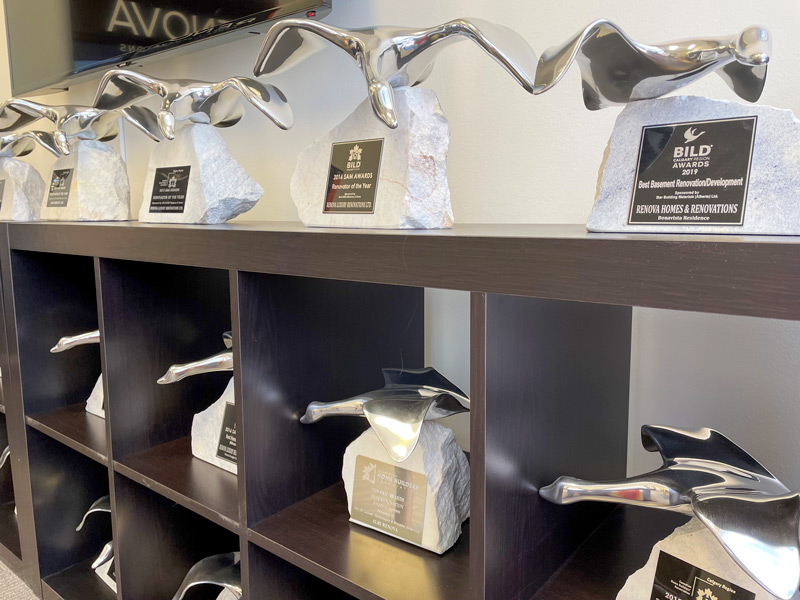 2021 AWARDS
2021 BILD Awards Winner – Multi-Family Builder of the Year
2021 BILD Awards Winner – Best Townhome/Villa over $380k
2021 BILD Awards Winner – Best Kitchen Renovation $100k & Over
2021 BILD Awards Winner – Best Exterior Renovation/Outdoor Space
2021 BILD Awards Finalist – Best Home Renovation with Addition
2021 BILD Awards Finalist – Best Home Renovation without Addition
2021 BILD Awards Finalist – Best Kitchen Renovation $56k – $99k
2021 BILD Awards Finalist – Best Bathroom/Ensuite Renovation
2019 AWARDS
2019 BILD Awards Winner – Best Basement Renovation
2019 BILD Awards Finalist – Best Kitchen Renovation Up to $69,999
2019 BILD Awards Finalist – Best Kitchen Renovation $70,999 – $119,999
2019 BILD Awards Finalist – Best Kitchen Renovation $120,000 & Over
2019 BILD Awards Finalist – Best Bathroom/Ensuite Bathroom Renovation
2019 BILD Awards Finalist – Best Home Exterior Renovation With or Without Addition
2019 BILD Awards Finalist – Best Multi-Family Design 900sqft– 1299sqft
2019 BILD Awards Finalist – Best Multi-Family Design 1300sq.ft. & Over
2018 AWARDS
2018 BILD Awards Winner – Best Kitchen Renovation (over $90,000)
2018 BILD Awards Finalist – Best New Home (720,000 – 849,999)
2018 BILD Awards Finalist – Best Kitchen Renovation (up to $89,000)
2018 BILD Awards Finalist – Best Home Renovation (with Addition)
2018 BILD Awards Finalist – Best Home Renovation (without Addition)
2018 BILD Awards Finalist – Best Exterior Home Renovation (with or without Addition)
2017 AWARDS
2017 BILD Awards Winner – Best Kitchen Renovation  (up to $89,000)
2017 BILD Awards Finalist – Best Kitchen Renovation  (over $90,000)
2017 BILD Awards Finalist – Best Renovator's Choice Renovation
2016 AWARDS
2016 CHBA GRAND SAM Award Winner – Renovator of the Year
2016 CHBA SAM Award Winner – Best Home Renovation (with Addition)
2016 CHBA SAM Award Winner – Best Home Renovation (without Addition)
2016 CHBA SAM Award Winner – Best Bathroom/Ensuite
2016 CHBA SAM Award Winner – Best Kitchen (up to $89,000)
2016 CHBA SAM Award Winner – Best Kitchen (over $90,000)
2015 AWARDS
2015 CHBA GRAND SAM Award Winner – Renovator of the Year
2015 CHBA SAM Award Winner– Best Home Renovation (with Addition)
2015 CHBA SAM Award Winner– Best Kitchen Renovation Over 90K
2015 CHBA SAM Award Winner– Best Kitchen Renovation Under 90K
2015 CHBA SAM Award Finalist– Best Basement Renovation
2015 CHBA SAM Award Finalist– Best Renovators Choice Renovation
Best of Houzz 2015 – Design
2015 Alberta Awards of Excellence Finalist – Best Renovation Under $200k
2014 AWARDS
2014 CHBA SAM Award Winner – Best Bathroom/Ensuite Renovation
2014 CHBA SAM Award Winner – Best Basement Renovation
2014 CHBA GRAND SAM Award Finalist – Renovator of the Year
2014 CHBA SAM Award Finalist – Best Kitchen (up to $89,000)
2014 CHBA SAM Award Finalist – Best Kitchen ($90,000 and over)
2014 Alberta Awards of Excellence Winner – Best Renovation Under $200k
2014 Alberta Awards of Excellence Winner – Best Renovation $200k-$500k
2013 AWARDS
2013 CHBA GRAND SAM Award Winner – Renovator of the Year
2013 CHBA SAM Award Winner – Renovator's Choice (Best Renovation)
2013 CHBA SAM Award Winner – Best Basement
2013 CHBA SAM Award Winner – Best Bathroom/Ensuite
2013 CHBA SAM Award Finalist – Best Kitchen (up to $89,000)
2013 CHBA SAM Award Finalist – Best Kitchen (over $90,000)
2012 AWARDS
2012 CHBA GRAND SAM Award Winner – Renovator of the Year
2012 CHBA SAM Award Winner – Renovator's Choice (Best Renovation)
2012 CHBA SAM Award Finalist – Best Kitchen
2012 CHBA SAM Award Finalist – Best Basement
2012 CHBA SAM Award Finalist – Best Bathroom/Ensuite
2012 CHBA SAM Award Finalist – Best Home Renovation (without Addition)